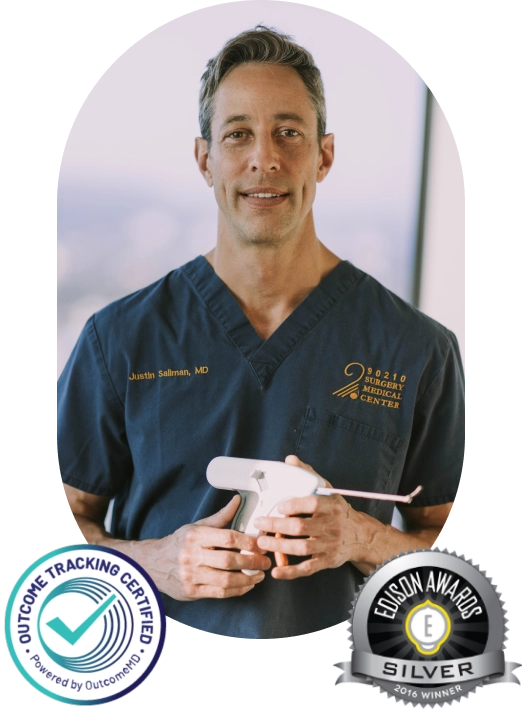 As Featured in Forbes: From The Operating Room, This Physician Entrepreneur Manufactured His Way To A $105 Million Exit.
After training for more than ten years to be an orthopedic surgeon at institutions such as Stanford University and Mount Sinai in New York, Justin Saliman, MD, traded in his scalpel and scrubs for a life of instability and unpredictability by founding Ceterix Orthopedics.
Knee procedures not only for 'boomers' but younger people
Derrick Rose Meniscus Repair: How A New Technology Will Change Everything
New Treatments for Hip Pain
Never ignore hip pain, especially if you want to avoid a hip replacement in the future. Top orthopedic surgeon Justin D. Saliman, M.D, explains why in Ask the Doctor, a new women's health video series produced in partnership with Cedars-Sinai Medical Center…
Repairing a Torn Meniscus
You don't have to suffer with knee pain. A leading orthopedic surgeon discusses the latest techniques for repairing a torn meniscus and preventing arthritis in Ask the Doctor, a new women's health video series, produced in partnership with Cedars-Sinai Medical Center…
Justin Saliman MD on abc 7 news story
For active adults, a procedure to ease hip pain
Elizabeth Strumpf, an avid skier, took a tumble last year on an expert trail. When she got up, she felt a dull ache in her hip that worsened and grew even more painful after intense exercise or activity. She soon found she could not sit for more than 10 minutes without increasing discomfort.

"I had pain snaking down the back of my leg just driving my daughter to school," says Strumpf, a mother of two who met her husband, Lance, on the slopes. "Then, at the gym, I started feeling sharp pain in my hip. Eventually, it hurt too much to work out, something I really enjoyed and missed."

She's now back to her active life and the sport she loves after treatment by Justin Saliman, MD. The Cedars-Sinai Orthopaedic Center surgeon ran tests, including a contrast MRI, finding Strumpf showed signs of femoral acetabular impingement (FAI) – a condition in which the irregular shape or rough edges of the femur (thigh) bone rubs or pinches soft tissue in the hip joint. This can lead to fraying or tearing of surrounding cartilage, causing pain and damage that may develop into arthritis or prompt the need for major surgery.
Man Seeks Relief for Hip and Knee Pain
Privacy Policy | Terms & Conditions | Accessibility | Notice | Contact Us
Justin D. Saliman, MD, Los Angeles, CA
Phone (appointments):(310)703-5819
Phone (general inquiries):(310)703-5819
Address: 8436 W 3rd St, Suite 800,
Los Angeles, CA 90048
Justin D. Saliman, MD, Beverly Hills, CA
Phone (appointments):(310)703-5819
Phone (general inquiries): (310)703-5819
Address: 450 N. Roxbury Dr. , Ste 600,  Beverly Hills, CA 90201