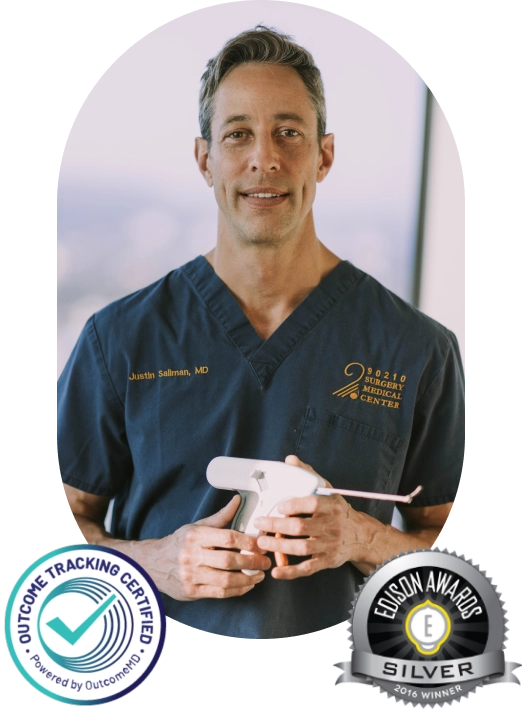 Dr. Justin D. Saliman always appreciates feedback from his valued patients. To date, we're thrilled to have collected 156 reviews with an average rating of 4.93 out of 5 stars. Please read what others are saying about Dr. Justin Saliman below, and as always, we would love to collect your feedback.
The Zoom call worked well. Look forward to our next call when you have my Digital MRI results.
Surgery was very easy to schedule
Very good results so far, 3 months post surgery.
Dr Saliman is a great friend and great doctor and surgeon and I highly recommend him!
Dr. Saliman was very informative and helpful. I thank him for his outstanding help and support with my knee issue.
Dr. Saliman does a thorough comprehensive review of the knee in question and customizes a treatment plan that corrects the deficits at their core (i.e. medial meniscus tear and medial osteoarthritis). My plan incorporates the NOVOSTITCH vs. cleaning, stem cells and the new Misha Knee System. He has the expertise and world knowledge of cutting edge technologies to improve his patients quality of live. Things we used to take for granted and can no longer undergo without pain ( i.e. going down stairs, carrying objectsin excess of 20 lbs. and standing in place for a prolonged period of time. I want my knee back; I want my life back!
I am pre surgery but the experience thus far has been fantastic
Great consult, very educational educational. Looking forward to surgery.
I'm really excited and hopeful about my surgery with Dr. Saliman.
Thorough, knowledgeable, efficient. Have had multiple procedures and trust Dr. Saliman.
I had the first consult with Dr. Saliman via zoom a few days ago. Dr. Saliman was kind, compassionate, straightforward, and thorough in explaining my options and their pros and cons. Before meeting with Dr. Saliman, I discovered that no top orthopedic surgeons would take my meniscus tears seriously, they made it so hard for me even to get an appointment. I then learned that they had neither the interest nor the expertise to treat my kind of injury. Fortunately, I learned about Dr. Saliman's expertise in meniscus tear repair using his novel circumferential stitch. Before meeting Dr. Saliman, I thought I had to live with the constant fear of not being able to walk. But he assured me that I don't have to. I'm looking forward to getting my meniscus tears repaired by him. While I don't know yet what the outcome will be, I now know that there is hope.
Privacy Policy | Terms & Conditions | Accessibility | Notice | Contact Us
Justin D. Saliman, MD, Los Angeles, CA
Phone (appointments):(310)703-5819
Phone (general inquiries):(310)703-5819
Address: 8436 W 3rd St, Suite 800,
Los Angeles, CA 90048
Justin D. Saliman, MD, Beverly Hills, CA
Phone (appointments):(310)703-5819
Phone (general inquiries): (310)703-5819
Address: 450 N. Roxbury Dr. , Ste 600,  Beverly Hills, CA 90201